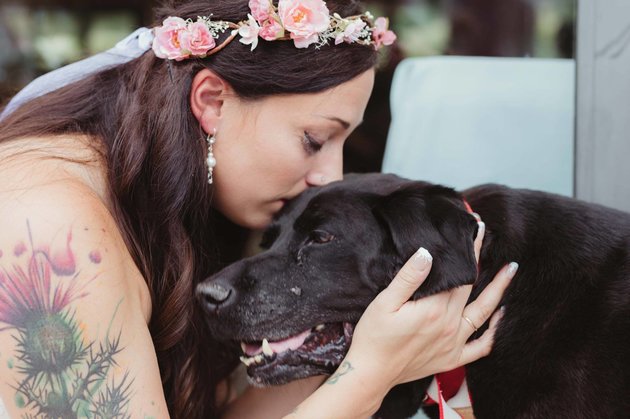 Bride's Dog Passes Days After Walking Down the Aisle
Alright lovely readers. Get your tissues ready. We have quite the tearjerker for you today. Yes, I know. Why on earth am I sharing a sad sapper story on an uplifting wedding blog? Well, a) it's about a dog, b) it's about a wedding and c) it's about a dog 🙂 So, you have been forewarned!
Bride Kelly O'Connell met her pup Charlie Bear when he was just 12 weeks old. Kelly was working at an animal shelter while studying to be a veterinarian. Charlie Bear was found in a grocery store parking lot and the moment he came in to the shelter, him and Kelly formed an immediate bond. Even though she wasn't looking for a dog at the time, it was a no brainer.
"He came in, and I was like, 'Yup. I'm taking this puppy home,'" she told BuzzFeed.

Sadly, earlier this year Charlie Bear was diagnosed with a brain tumour at the age of 15. A week before Kelly's wedding to her husband James, Charlie Bear's health took a turn and he had 5 seizures. Kelly and James make the difficult decision to put Charlie Bear to rest. However his health suddenly started improving and his seizures subsided so they decided to cancel the appointment.
Lucky for everyone, this means Charlie Bear was able to make it to Kelly and James' wedding on September 1st to proudly walk his beloved mom down the aisle.
He was overcome with emotion afterwards however so needed a little assistance making it back down so the bride's sister and maid of honour Katie lovingly carried him back down the aisle.
"[We] just grabbed onto him, and we just kept saying, 'You made it, buddy, you made it,'" the bride recalled.

Six years ago Kelly met James, a fellow veterinarian and later moved in with him and his two kids. Charlie Bear rounded out the family.
"Charlie was witness to the relationship development between James and me and I believe he wanted to be [at the wedding] to see me happy," O'Connell added.
Sadly, a week later Charlie Bear was put to rest at his home surrounded by family.
"If this story makes people hug their pet or remember a pet that is no longer with them with fondness, it has done its job," she said. "I hope people understand that a mixed dog from a shelter that was tossed away can bring 15 years of joy and memories that last a lifetime."
I told you it was a tearjerker. Now go hug your pets and enjoy your weekends!