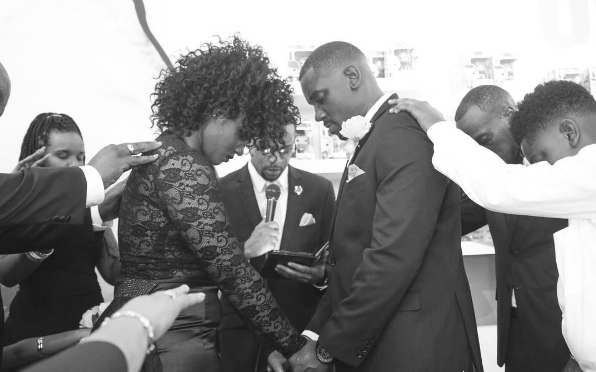 #ForeverDuncan – Groom Surprises Bride with Wedding Six Hours After Proposing
Well, it's official. 2016 is far from over and we have our Groom of the Year award. Alfred Duncan, who is a Grammy nominated R&B singer, had the surprise of a lifetime planned for his beautiful bride to be Sherrel, a personal trainer. A mere six hours after sweeping her off her feet with a romantic proposal, Duncan took social media by storm with a surprise wedding. Yes, you read that right. Six hours later, as in the same day, as in yesterday. Lucky for us internet folk, the whole thing was captured on social media and was trending within hours. A quick search of #ForeverDuncan will give you a play by play of how the day went down, from beginning to end.
What a man! Every detail was thought of. Sherrel was whisked away after the proposal to get her hair and make up done, a custom gown was waiting for her along with her best friends. She was then blindfolded and brought via limo to the ceremony location to marry Alfred in front of their family and friends.

The hashtag and videos went viral overnight. So much so in fact that the couple were on morning show after morning show this morning recounting their big day. What a whirlwind!
Here is what Alfred had to say on Instagram, "Fellas my PERSONAL bar has always been raised for me. I studied my Wife. I listened to her even when she didn't say a word. I wanted to amaze her by displaying my love to her in front of all of our friends and family. I had no idea this would happen. That wasn't my intentions. My ONLY intention was to please her beyond belief. If not one person posted a video I would've been fine. You have your own bar. Step up." Preach!
Ladies, what are your thoughts on a surprise wedding? Although this is super romantic, I don't know if the majority of women out there would like this. I mean, some would and clearly Alfred knows Sherrel well enough to know this is something she would LOVE. But some women not only just aren't a fan of surprises but also the wedding planning process is part of the fun. Not to mention that many women have a specific vision for their big day and have been dreaming about it for years. I should say however, extra points to a man that plans a surprise wedding completely in line with his fiance's Pinterest board.
Check out the highlight film from their wedding day here. When it's over I urge you to search the hashtag. If not for the warm fuzzy feelings, search it for the hilarious memes that have popped up as a result.
Happy viewing!